The cuisine of Piedmont is very diverse.
The Piedmont region is rich with mountains and flatland, lakes, rivers and also rice fields.
That's why Piedmont's cuisine is so full of traditions and cooking trends.
You can choose between vegetables, rice, pasta, fish, meat for your dishes. Some need a long time to be cooked and many ingredients, but some are made just for you before serving.
There was a road of salt through Piedmont from Liguria. In addition to salt, Piedmont was getting tin salted fish-anchovies. It became very popular in local dishes, for example anchovies in green paste-Acciughe al verde.
France is Piedmont's closest neighbour, they share some tradition in food and recipes.
Piedmontian cuisine was always divided for poor and for aristocrats. Lately rustic food "for poor" became very popular for its rich taste and flavour.
Meat-local cuisine uses many different types of meat; lamb, beef, veal, pork, goats meat, all kind of poultry. Very often you can see in local menus dishes with wild meat and game birds.
Raw meat is very unusual for our taste. Steak tartar or carne cruda is very popular in Piedmont.
There is how it's made.
http://cookalmostanything.blogspot.com/2011/09/carne-cruda-allalbese.html
This dish is prepared without using any machines, only by hand. With carne cruda local wine, it is beautiful pair. It could be Dolcetto di Alba, Barbera di Alba or local white Roero Arneis.
Another popular appetizer is vitello tonnato – sliced veal covered with creamy mayonnaise-like sauce which is flavoured with tuna.
A favourite meat dish is agnolotti piemontesi which is a stuffed pasta, and it comes in many different varieties. Usually they are square and small and are made using very thin sheets of pasta.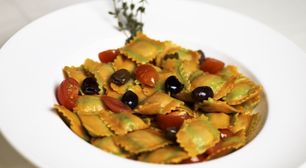 There are some of the popular meat dishes:
Costolette Di Agnello Ai Balsamico E Rosmarino
Rabbit in Red Wine
Beef braised in red wine (Barolo)
Salsiccia brasata- sausage cooked in red wine with herbs, served usually with polenta.
Pollo/carne in carpione – pieces of chicken cooked in breadcrumbs marinated in olive oil, vinegar and herbs, served cold.